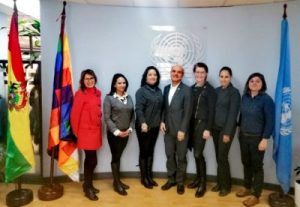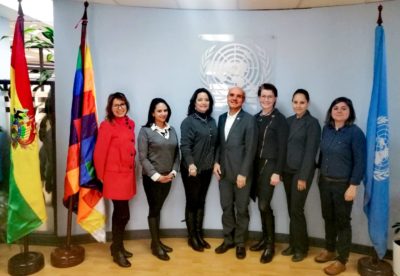 It is a pleasure for us to share with you the progress in building bridges between important organizations in the sustainable development realm in Bolivia.
We thank Mauricio Ramirez, representative of the United Nations System in Bolivia, for providing us with the space to sit together with representatives of the Association of Municipalities of Bolivia (AMB), Claudia Herbas, Rocío Molina and Regina Bejarano.
As we have recently announced, SDSN Bolivia has embarked on the project and the production of the Municipal Atlas of the SDGs in Bolivia. Therefore, to strengthen ties with one of the entities that bring together all 339 Autonomous Municipal Governments of the country is an important step towards supporting the SDGs at the local level.
Achieving sustainable development from the local level has become a key strategy for all countries around the world. It is especially important for Bolivia, given that the administrative and fiscal decentralization process needs to consolidate in order to contribute to the improvement of the living conditions of Bolivians.
In order to make academic research count, and have a real impact on the sustainable development of Bolivia, establishing a line of communication with the Autonomous Municipal Governments of Bolivia offers the possibility of actively providing inputs to the local governments, thus positively impacting a more effective decision making process when it comes to public policy design and implementation.