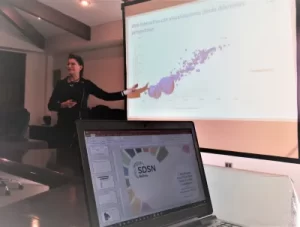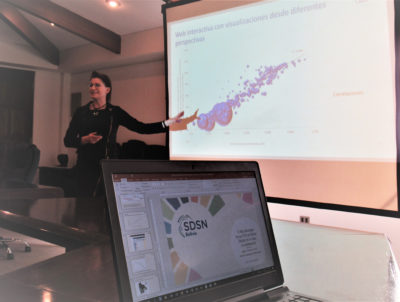 The advances made in the production of the Municipal Atlas of the SDGs in Bolivia were presented to representatives of the private sector in Bolivia on May 23rd. The presentation was possible thanks to the space provided by the Confederation of Private Enterprises of Bolivia (CEPB) who are the focal point for the UN Global Compact Network in Bolivia.
Private entities that focus their efforts in accomplishing the Sustainable Development Goals related to childhood in the country, learned about some of our data regarding education, birth, teenage pregnancy and internal migration.
It is a great pleasure for us to share these findings with the private sector, more so when we know about the existing and increasing interest to work together on the achievement of the SDGs. In this particular case, we thank UNICEF Bolivia for making this and more possible, given their hard work at creating a tool that allows private companies to evaluate and improve their actions for childhood.