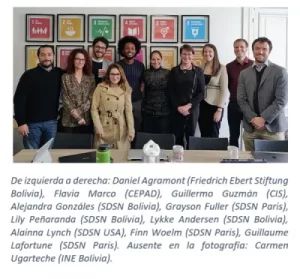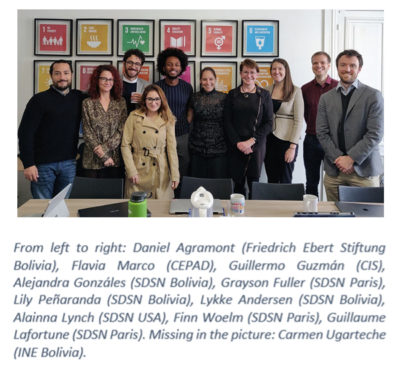 With a multidisciplinary team, we visited our partners in Paris-France in early October. The objective of this visit was to aggregate more than 100 indicators into the SDG Index. After this, our Municipal Atlas of the SDGs in Bolivia is closer to being ready for publication.
In the process of careful aggregation and analysis carried out with statisticians and social scientists who have extensive experience in the production of the SDG Index at the multi-regional and global level, we discarded 41 of the 104 indicators with which we arrived in Paris. At this cleaning stage, we discarded those indicators that generated redundancy or those that did not meet the required quality standards. We also ruled out those indicators that did not correctly read a phenomenon due to excessive noise generated in a large number of municipalities.
This process led to the exclusion of SDG 12 Responsible Production and Consumption, and SDG 14 Life Under Water in our municipal SDG Index. According to the criteria mentioned above, in Bolivia we have not been able to find good enough disaggregated data at the municipal level to be able to evaluate responsible consumption and production patterns, which forces us to highlight the problem of data production in Bolivia, a topic that we will touch upon extensively in the Atlas. On the other hand, SDG 14 which refers to underwater life is difficult to assess as Bolivia is a Mediterranean country. However, with significant amounts of fresh water, Bolivia does not have data to assess the vast aquatic biodiversity it hosts within its territory. Again, we stumbled into the inadequacy of data in this regard.
Once the cleanup was done, we finally ran Stata codes to transform the indicators into 15 indexes, one for each Development Goal (excluding SDGs 12 and 14) and a final code to get the aggregate SDG index that tells us which municipalities have made the most progress in meeting the goals set by the Sustainable Development Goals in 2015, and which are among the most lagging. This information will be made public when we launch the Atlas in March 2020.
We were very grateful to the SDSN team in Paris, which through this experience really highlighted the potential of a global network.