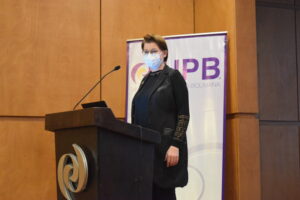 SDSN Bolivia, in collaboration with UPB and Solydes, announced the launch of the book, which analyzes the status of the Sustainable Development Goals (SDGs) in municipalities in Bolivia. The Municipality of La Paz and the Department of Tarija were also recognized.
The presentation of the new Municipal Atlas of the Sustainable Development Goals in Bolivia 2020 took place today. This document was prepared after an exhaustive study carried out in the 339 municipalities of the country, in order to observe and note the level of compliance with the SDGs proposed by the United Nations.
The municipality of La Paz achieved the highest Sustainable Development Index in the country, according to the study. This is because the city ensures a good quality of life for its inhabitants with relatively few resources and with a minor adverse impact on the environment. The municipality is number 1 in SDG 11 (Sustainable Cities and Communities), with all indicators in the green for low overcrowding. It is also first in SDG 8: Decent work and economic growth.
On the other hand, among the 9 departments, Tarija achieved the best Sustainable Development Index in the country. Its good growth was not limited to the capital but was reflected in all Tarija's municipalities, with a departmental lead in several SDGs, such as Health and well-being (SDG 3), Gender equality (SDG 5), Clean water and sanitation (SDG 6), Decent work and economic growth (SDG 8), among others.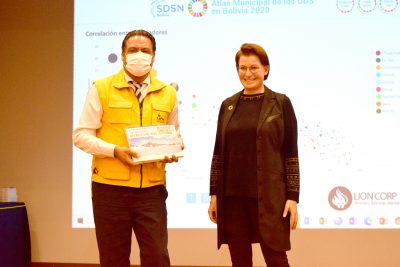 The general coordinator of the project and Executive Director of SDSN Bolivia, Lykke E. Andersen, presented an award to the Mayor of La Paz, Luis Revilla Herrero, who also shared a few words with the audience and explained how decisions are made in the context of municipal governments, taking into account the real needs of the population and keeping the Sustainable Development Goals in mind. Marcelo Arroyo, from the Autonomous Municipal Government of La Paz, then gave a presentation on the SDG Agenda in La Paz. Finally, Carlos Iturralde, President of SDSN Bolivia, also gave a word of recognition to the department of Tarija.
The Municipal Atlas addresses a variety of issues such as poverty, health, education, access to services, gender equality, productive infrastructure, environmental impacts, among others. The information is presented through processed and clear data, to facilitate the interpretation of the situation of each municipality. All the material collected and generated is open to the public. It is expected to be of great use to researchers, public managers, businessmen and civil society in general, which will have a tool with multiple applications.
Available in www.sdsnbolivia.org/atlas